Open House Tours
Saint Michael's Church
Details:
2–4pm, Saturday October 19th
Last tour 3.30pm
Regular 30min tours led by Dean Niall J. Sloane
FREE, First Come Basis
Limited Disabled Access
Building:
Pery Square, V94 A0Y3
Architect: James Pain with George Richard Pain, 1844
Improvements by Joseph Fogerty & Son, 1877
Description:
Historical Visionaries: Stories of well-known Limerick landmarks and hidden corners.
A neo gothic church resting on the picturesque Pery Square celebrating its 175th Anniversary this year.
This church was designed by James Pain with George Richard Pain. It was built in a simpler form than the original design and without the spire. In 1877, Joseph Fogerty & Son carried out improvements to the church, which included the addition of an extra stage to the tower, a new forecourt and new chancel which incorporated the east window designed by James Pain which was removed from Saint Mary's Church of Ireland Cathedral and reduced in size. The chancel was added at a cost of £2,000 by William and Robert Fogerty. The church re-opened on the 18th November 1877.
The stained glass, which illustrates the Parables, were erected in 1878. Further work was carried out by in 1883 with the design of the mural monument in memory of Mrs. Purdon Wilkinson. The work was carried out by Charles W. Harrison, Dublin to the design of Joseph Fogerty & Son. The stone cut piers and the tiled entrance floor of the church were given as gifts by Robert Hunt J.P. This church stands at the southern end of Pery Square facing Saint Saviour's Dominican Church.
The original Neo-Georgian façade Pery Square gives balance to the urban composition of the two similarly scaled and styled churches terminating the vista of the street to the north and the south. Saint Michael's Church adds immeasurably to the importance of Pery Square as the unrivalled Georgian streetscape outside of Dublin City.
National Inventory of Architectural Heritage
Open House Tours
12 & 1pm | Bridge Street | 1hr tours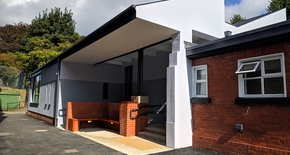 Open House Tours
10am–12pm | Pery Square | 30min tours
Open House Tours
1–3pm | Murroe | 30min tours