Open House Tours
The GAFF
Details:
1–2pm, Saturday October 19th
1hr tour led by Architect Manuela Hartlep
FREE, First Come Basis
Limited Disabled Access
Building:
36 Cecil Street, V94 K886
Built by Thomas Jackson, 1807.
Description:
Shared Visionaries: How architecture shapes collective visionaries.
A behind the scenes tour of the GAFF theatre space.
The Gaff is an artist-driven theatre resource which supports Limerick theatre artists through the provision of dedicated spaces for rehearsing, devising and presenting works in progress and meeting spaces where advice and mentoring from fellow practitioners can be sourced.
Begun in 1806 and completed in 1807, on a plot of land owned by John Meade Thomas. It was built by Thomas Jackson. It was 54 feet in breadth by 92 feet in length with a passage of 10 feet wide leading from Cecil Street at a yearly rent of £28.8.9.
This structure embodies the plain simplicity associated with the Society of Friends meeting houses. It is unique in the city and although no longer used by the Society, it is of great significance to the religious and institutional traditions associated with Limerick City. By 1953 there were only nine members of the congregation and the meeting house was sold to the Irish Red Cross the following year.
The Society of Friends was established in Limerick City in the seventeenth century. Meetings at first took place in private homes. In fact, it has been documented that the home of Richard Pearce in Augustine Place was used around 1655 for this purpose. The first meeting house in Creagh Lane was built in 1671. This was replaced in 1735. There was a prohibition on siting a Quaker meeting house on the main thoroughfare.

National Inventory of Architectural Heritage
Open Space
12–3pm | Cleeves Factory | Public Sketching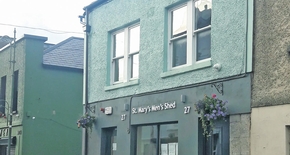 Open House Tours
10am–1pm | Nicholas Street | 1hr tours
Open House Tours
1 & 2pm | Mower Mallow Street | 45min tours