Open House Tours
Kilkerrin, Clancy's Strand
Details:
1–3pm, Saturday October 19th
Last tour 2.30pm
Regular 30min tours
FREE, Pre-Booking required. Tickets available from this page from 10am, Thursday October 10th
Limited Disabled Access
Building:
Clancy's Strand, V94 WVE2
Architect: William Clifford Smith, 1905
Refurbishment: Noel Kerley Associates
Description:
Visionary Homes: Celebrating Limerick's rich housing and the visions embedded within it.
Built in 1905, sympathetically renovated in 2016, Kilkerrin retains original features - ceiling roses, coving, fireplaces, hall tiles, staircase and stained glass front door.
Open Minds
10am–5pm | Shannon Rowing Club | Exhibition
Open House Tours
11am–3pm | Pery Square | 45min tours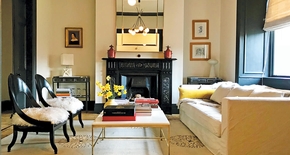 Open House Tours
2.30–4pm | Ennis Road | 30min tours | Pre-Book only