Open House Tours
Scoil Chríost Rí, Boys National School
Details:
11am–1pm, Saturday October 19th
Regular 20min tours by Ailish Drake, Conor Hourigan
FREE
Disabled Access
Due to the rugby world cup quater- final the building will be extended until 2 pm.
Building:
Caherdavin, V94 N229
Architect: Drake Hourigan, 2018
Description:
Civic Visionaries: How visionary architecture addresses environmental, social and economic sustainability and how it can optimise the health and wellbeing of its occupants.
Winner of the RIAI Public Choice Awards 2019, for excellence in the design and integration of additional needs accommodation into mainstream education.
Designed in close collaboration with the principal and teachers, this space provides for a two classroom Autism Spectrum Disorder (ASD) suite with a central activities space and a sensory garden, new entrance courtyard and atrium space for whole school circulation. Inclusion, compassion and flexibility of use were key drivers in the design.
Until recent years, parents of children with special needs and autism spectrum disorder could only choose between sending their child to a special school or sending them to mainstream school. Studies have shown that parents prefer that their children attend mainstream schools, in particular for their social development, as children learn from other children and all children benefit from the opportunity to understand that not everyone is the same. Providing special needs facilities within the mainstream setting gives parents the opportunity to send their children to the local school with their siblings, neighbours and/or friends. With early years support, children have a greater chance of fully integrating into mainstream classes as they progress through the primary school system.
The new accommodation facilitates the school and teaching staff in providing pupils with the necessary educational and social supports when starting school. By including these facilities within the mainstream school setting, children will develop social skills through participation in educational and social activities with their peers, with a view to moving to mainstream classes as they progress through their school years.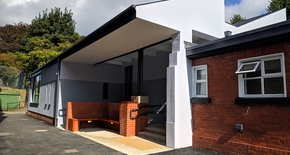 Open House Tours
10am–12pm | Pery Square | 30min tours
Open House Tours
12.30 & 1.30pm | Ballynanty | 1hr tours |
Open House Tours
2, 3 & 4pm | Roxboro Road | 1hr tours