Open House Tours
Thomond Primary School--Extension
Details:
12.30 & 1.30pm, Saturday October 19th
1hr tours led by Kevin Jackson Architects
Disabled Access
Building:
Ballynanty Road, V94 C2R7
Architect: Andy Devane
Extension, Kevin Jackson Architects, 2018
Description:
Civic Visionaries: How visionary architecture addresses environmental, social and economic sustainability and how it can optimise the health and wellbeing of its occupants.
Kevin Jackson Architects were appointed by Thomond Primary School to develop a 4 classroom extension to the existing school at Ballynanty in Limerick which was designed by Andy Devane and is a protected structure. A masterplan for the future expansion and development of additional classrooms and support space along with a future playing field has been developed providing the context for the realisation of the current scheme which extends the original logic of the Devane plan to provide a new classroom pavilion to the south. Project completion January 2018.
Tours include a 4 classroom extension to the existing school, which was originally designed by architect Andy Devane and is a protected structure.
This original school was designed by the architect Andrew Devane (1917-2000). He was a Limerick born architect of some of the country's finest architecture of the second half of the twentieth century. He studied architecture in UCD, before he joined Robinson and Keefe Architects. He was awarded the Taliesin Fellowship and in 1946 he left Ireland for the USA to be an apprentice architect to Frank Lloyd Wright.
The sophistication of this masterpiece cannot be accurately outlined in this context. However the composition of the entrance elevation pays homage to Wright's Falling Water, Bear Run, Pennsylvania, USA, while the geometric rock-faced concrete façade block work is also suggestive of Wright's work from the 1920s.
The foundation stone was laid in either October or November 1955. The contractor for the work was Murphy Brothers and the estimated cost was £90,000.
National Inventory of Architectural Heritage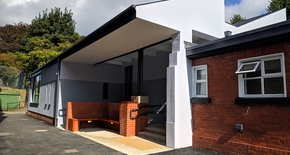 Open House Tours
10am–12pm | Pery Square | 30min tours
Open House Tours
11am–1pm | Caherdavin | 20min tours |
Open House Tours
3pm | Mary Immaculate College | 1hr tour | Pre-Book only